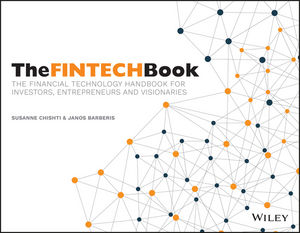 The FINTECH Book: The Financial Technology Handbook for Investors, Entrepreneurs and Visionaries, put together by Susanne Chishti and Janos Barberis, has just been published. Tagged as "A front-line industry insider's look at the financial technology explosion", this title has much that will interest those who are following the rebirth and metamorphosis of the banking sector in the post-internet age.
According to its publishers, Wiley:
The FINTECH Book is your primary guide to the financial technology revolution, and the disruption, innovation and opportunity therein. Written by prominent thought leaders in the global fintech investment space, this book aggregates diverse industry expertise

[166 authors and 188 abstracts!]

into a single informative volume to provide entrepreneurs, bankers and investors with the answers they need to capitalize on this lucrative market. Key industry developments are explained in detail, and critical insights from cutting-edge practitioners offer first-hand information and lessons learned.



The financial technology sector is booming, and entrepreneurs, bankers, consultants, investors and asset managers are scrambling for more information: Who are the key players? What's driving the explosive growth? What are the risks? This book collates insights, knowledge and guidance from industry experts to provide the answers to these questions and more.




Get up to speed on the latest industry developments

Grasp the market dynamics of the 'fintech revolution'

Realize the sector's potential and impact on related industries

Gain expert insight on investment and entrepreneurial opportunities

The fintech market captured over US$14 billion in 2014, a three-fold increase from the previous year. New startups are popping up at an increasing pace, and large banks and insurance companies are being pushed toward increasing digital operations in order to survive. The financial technology sector is booming and The FINTECH Book is the first crowd-sourced book on the subject globally, making it an invaluable source of information for anybody working in or interested in this space.
Readers of this weblog and followers of the Aistemos Twitter account will know that FinTech is a field that greatly concerns it on account of the importance of patent protection to the sector. Indeed, our best-read blogpost of all time is last November's guest piece "FinTech patents: where finance meets technology", based on data provided by IP analysts Relecura.
We shall be seeking a review copy of this new book in order to take a look at, among other things, what it has to say about FinTech power based on patents and other IP rights, the prospects for establishing technical standards based on cross-licensing and FRAND agreements, and all the other IP-related issues that, we feel, continue to attract insufficient attention among experts, analysts, news reporters and informed commentators. Once we've had a chance to look through it, we'll report back on this weblog.
Meanwhile, you can get further information from the book's web page here and from the publisher's web page here.